Some of the copious amounts of trash talking by Sergio "Maravilla" Martinez before his title bout with Julio Cesar Chavez, Jr . last Saturday might not have been all that trashy after all. They might have been true.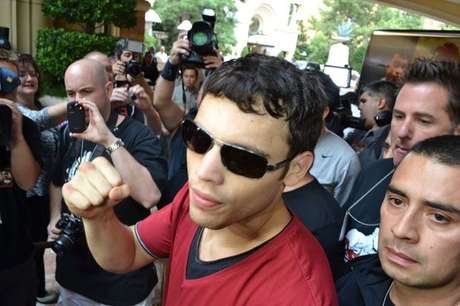 Martinez accused Chavez of disrespecting boxing in the run-up to championship fight which the former won, and news coming from Ring Magazine TV that Chavez tested for positive for marijuana after the fight might lend credence to those comments.
Like a teenage pothead, it looks like Chavez, Jr. still has a lot growing up to do.
It's one thing to take performance enhancing drugs to improve an outcome, even if they're not legal. But it says something altogether different, and maybe worse, if you are taking something like pot which will prevent you from being at your best in any athletic endeavor, especially a fight.
Regardless of whether you agree or disagree with the use of marijuana, having it in your system before a 12 round championship boxing match is not a good idea.
Conspiracy theorists might now see Chavez's slow start and passive approach to much of the fight in a different light if it turns out that he was in fact lighting up. Never mind that Chavez performed much in the same way in previous fights, but if it turns out that he did have marijuana in his system his lackluster performance will be explained away in the worst possible way.
Martinez and his entourage talked about Chavez Jr. taking trainer Freddie Roach for granted as documented on "24/7 Chavez, Jr./Martinez" and Roach himself hinted at his uneasiness with some of Chavez Jr.'s "methods" before the fight before flatly stating that he would insist on a "stricter approach" if and when a rematch were granted.
Now, every question about how Chavez, Jr. prepared for the fight has been answered – in the negative.
Chavez, Jr. only sunk himself even further if he did inhale. Where the new information looks worst, however, is in the context of Chavez, Jr.'s own words before the fight.
Although boxers are routinely forgiven for their hyperbole in prefight rants, the fact that Chavez, Jr. repeatedly, almost annoyingly, blathered on and on about how he was in the best shape of his career and how he was totally ready to take on Martinez, looks plain dumb if he sabotaged everything.
Chavez also said that the Martinez fight would go a long way to establishing himself as a credible champion in the boxing world's eyes. "I hope after this fight I get the recognition I deserve," he told Terra . For a while there it did. His 12th round performance, including a knockdown of Martinez went a long way to showing that he was a serious fighter.
But now that is once again in question. When you add the reported test results with similar past indiscretions Chavez again drops to the ranks of a pretender.
Let's see how he bounces back from this one.