The calm within the storm. Julio Cesar Chavez ' girlfriend, Frida Munoz, revealed that the boxer is very calm and resting in Las Vegas, after it was announced on Wednesday that he had tested positive for marijuana.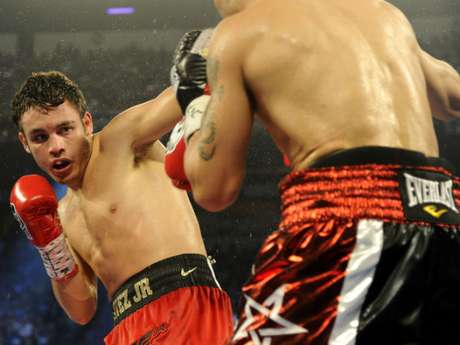 Munoz even added that Chavez Jr. had taken to relaxing and playing at the Las Vegas Casinos.
"Julio is calm. He is a man of few words, very reserved. Right now he's playing in the casino. He hasn't said anything about that (doping)," said Chavez' partner to Reforma.
The one person that did seem very upset over the news was Chavez Sr. who simply replied with "I don't want to talk about that, I"m sorry."
Bob Arum , president of Top Rank which represents Chavez Jr., confirmed the results of the tests last night with his usual controversial statements.
"I can't really get excited about it. There's no promoter in boxing who could pass the marijuana test, including myself."
Meanwhile, the Nevada Athlteic Commission will not give the official results until Friday or Monday. Meanwhile, the WBC has said they have received n o notification about Chavez Jr.'s positive results.
"Julio is going to have to explain to the commission what happened and the commission will be guided accordingly. If there was a trace of marijuana, to me, it's not the same as using a performance-enhancing drug. That is cheating," continued Arum in an interview with ESPN.