Terra, is proud to announce the launch of two inaugural sports blogs , showcasing content by a world-famous Mexican soccer icon, Cuauhtémoc Blanco and renowned sports journalist and model, Inés Sainz .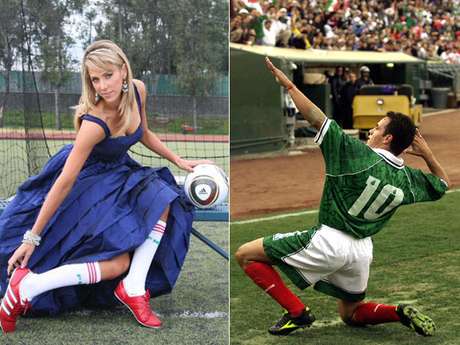 Sainz will also host Show de Goles , the special recap of the most amazing goals in the soccer world, twice a week.
For years, Terra has been a powerhouse of information, providing premium, worldwide sports content. The two celebrity blogs and the new Show de Goles featured on Terra, will complement the full soccer coverage available for fans on the platform, while completing the entire virtual experience for users who watch matches via live stream, view results and read relevant stories about respected team members. Fans will now learn from the insiders by reading their personal opinions in "Cuauhtémoc Word" and " The Beauty and the Ball."
"" Cuauhtémoc's Word " will offer readers a sharp perspective about soccer from an important and outspoken figure in the history of Mexican sports that has played in three World Cups and continues to make a strong presence as part of Dorados de Sinaloa in Mexico. Cuauhtémoc has been awarded the Most Valuable Player of the Mexican First League Division five times in his soccer career . Not only did he play for the Chicago Fire Soccer Club in Major League Soccer (MLS), but he is the second top scorer for the Mexican national team .
Inés Sainz, who has worked off the field as a sports reporter for major companies such as Azteca Deportes and beIN SPORT , will provide videoblog content for " The Beauty and the Ball " and will highlight the top five goals of each week, fun facts, and the most exciting weekly news in the soccer world on Show de Goles . Sainz was the host of DX Tips , a popular Mexican sports show and has covered major sporting events such as the Super Bowl, the World Cup and the Olympics.
Both of the blogs, "Cuauhtémoc Word" and " The Beauty and the Ball" will be updated weekly and offer readers an in-the-loop and personal account of international and Mexican soccer content from two experienced sports personalities.