England's Richard Finch paid a heavy price for his conservative approach to Lytham's eighth hole when he racked up a sextuple-bogey 10 in the British Open second round on Friday.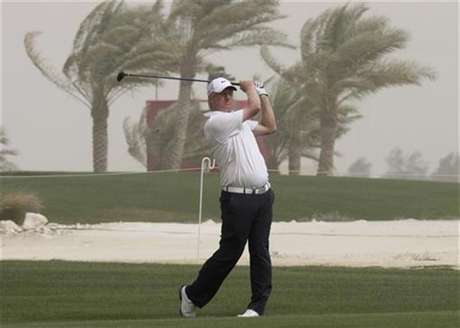 His ball visited a bunker, thick rough, trees and two patches of deep grass before Finch two-putted to end his misery.
"Playing safe and conservative went from bad to worse really," he told reporters after crashing out of the championship with a 79 and a 13-over tally of 153.
"I hit it in the bunker, then it went just on the top and came out in the thick rough, I then tried to go for the green and it went offline and into the trees.
"I dropped a provisional, that went into a really bad lie in the rough, I then hit that one and buried it further in the grass," added Finch.
"Then I had to take a penalty drop, got it out on the green and two putted."
Finch said he actually played well apart from his 10.
"I made 30 pars out of the 36 holes I played so it's not that bad, it's just not quite clicking at the moment," he said. "There's no point in throwing the towel in.
"It's easy with hindsight to say if I'd have played out of the bunker sideways but if you did that every time you'd never get anywhere."
Finch could not remember the last time he took 10.
"No idea," he said. "And I don't want to know either."
The 35-year-old journeyman, who turned professional in 2003, is no stranger to unusual incidents on the golf course.
He famously slipped on the riverbank at the last hole of the 2008 Irish Open and plunged into the water before composing himself to return to the 18th green and close out a two-stroke victory, one of his two European Tour wins.
(Editing by Tony Jimenez)
Reuters - Reuters content is the intellectual property of Thomson Reuters or its third party content providers. Any copying, republication or redistribution of Reuters content, including by framing or similar means, is expressly prohibited without the prior written consent of Thomson Reuters. All rights reserved.