New York's Derek Jeter and Alex Rodriguez reached milestone moments in their careers on Friday but it was not enough to prevent a 6-4 loss to the Tampa Bay Rays.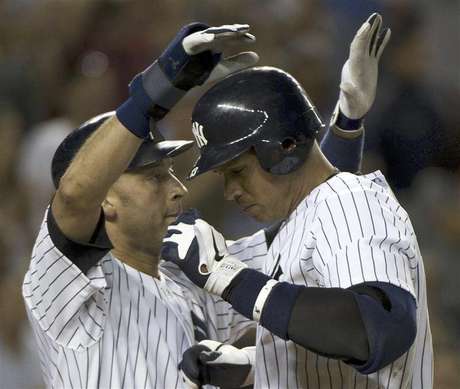 The loss dropped the Yankees (81-63) out of a tie with Baltimore for the American League East lead but they rejoined them at the top shortly after when the Orioles lost 3-2 to Oakland.
Tampa Bay improved to 78-66 and moved within three games of New York.
Rodriguez smashed a homer in the eighth inning to give him 1,889 runs for his career, moving him past former Yankee's Hall of Famer Lou Gehrig into ninth place on Major League Baseball's all-time list.
Jeter broke his tie with Hall of Famer Willie Mays for 10th place on the all-time hits list with a single in the fifth and he lined another single ahead of A-Rod's home run to boost his career total to 3,285.
However, it was the Rays who earned the win on Friday, starter David Price helping Tampa Bay bounce back after being swept three games by the Orioles.
The left-hander limited the Yankees to two runs over seven innings on the way to posting an AL-leading 18th win against just five losses.
A three-run Tampa Bay burst in the fifth inning on three hits and two walks off New York starter and loser CC Sabathia (13-6) brought the Rays back from a 1-0 deficit.
New York's Curtis Granderson hit his 38th homer of the season in the bottom of the fifth to cut the lead to 3-2, but an RBI-single by Ben Zobrist in the seventh and a B.J. Upton homer in the eighth made it 5-2.
The Yankees moved within one run in their half of the eighth when Rodriguez smashed his home run into the second deck off reliever Joel Peralta , but the Rays added an unearned run in the ninth and Tampa Bay closer Fernando Rodney shut the door on New York for his Major League-leading 43rd save.
Reuters - Reuters content is the intellectual property of Thomson Reuters or its third party content providers. Any copying, republication or redistribution of Reuters content, including by framing or similar means, is expressly prohibited without the prior written consent of Thomson Reuters. All rights reserved.