Julio Cesar Chavez Jr. has broken his silence.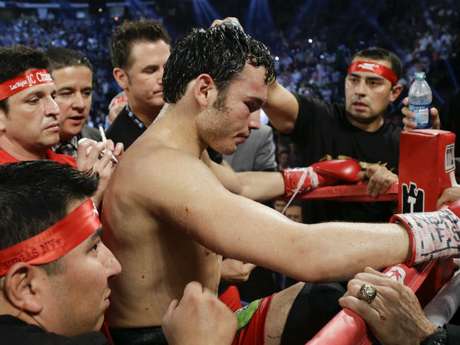 After the Nevada Athletic commission confirmed that the boxer tested positive for marijuana doping, Chavez Jr. posted on his official Twitter account (@ jcchavezjr1) a statement that apologizes and accepts the consequences of any possible punishment.

"Any explanation or justification to try to give about recent developments will be little or not convincing, so I want to makeit known to all, that I take full responsibility for my actions and the consequences thereof."

"I want to apologize to all those who are disappointed or aggrieved by my behavior, Only I know the causes and only I will take responsibility. In contrast, I can say that I will emerge stronger from these events and I will vindicate my image in any society, "Chavez told through the social network.
Also, the boxer hopes to emerge stronger from this problem, and even predicts a rematch against Sergio Martinez , to whom he lost the WBC middleweight title.
"Everything that happened generates an environment conducive to stopping and thinking about the future. Now its time to create the new Julio Cesar Chavez, to begin a stage to restage my career; I will prepare myself physically and mentally, to achieve new goals between the short term it is definitely a rematch with Sergio "Maravilla" Martinez "he said.
The 'Son of the Legend' said he is committed to continue his career and thanked the show of support.
"I take this opportunity to thank all the solidarity and support that I have received and also recognize all those who have sent messages of any kind," he said.
Chavez could be suspended between seven months and one year for testing positive for marijuana, he would also be fined
The comission will be announcing the punishment in the coming days. It is likely that the suspension invoked would only apply to the state of Nevada.