Felix Hernandez struck out 12 batters and pitched a three-hit complete game as the Seattle Mariners roughed up Yu Darvish and the Texas Rangers 7-0 on Saturday.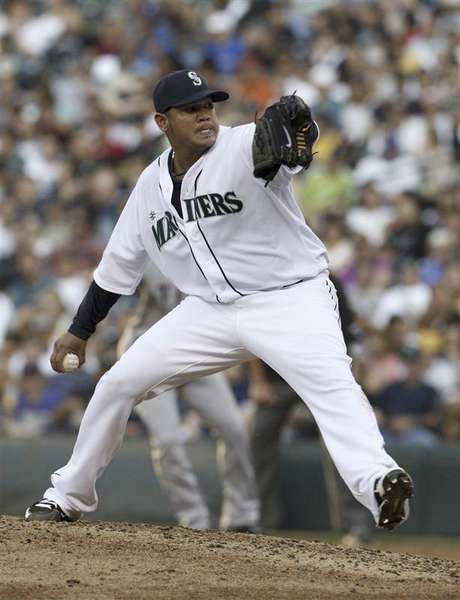 Hernandez (7-5) got all the support he needed in the first inning when Seattle scored four runs against fellow All-Star Darvish.
The Venezuelan right-hander did not walk a batter and limited Texas to singles in the third, fifth and seventh innings in the dominant performance.
"Today was unbelievable," Hernandez told reporters. "I was pounding the strike zone, I was throwing pitches in every count. If you get ahead against those guys, you're doing a good job because they have a pretty good lineup."
Darvish (10-6) gave up a career-high seven runs and all eight Seattle hits before leaving in the seventh.
The Mariners, in last place in the American League West Division that Texas leads, sent nine batters to the plate in the deciding first inning and did not let up against Darvish.
The Japanese pitcher walked in the Mariners' first run after loading the bases on a walk, single and hit batsman.
An error added another run before Kyle Seager's two run single put Seattle in control with just one out.
The Mariners added solo runs in the fourth, fifth and seventh inning with John Jaso homering off Darvish in the fifth.
Major League home run co-leader Josh Hamilton and Rangers designated hitter Nelson Cruz both struck out three times against Fernandez.
"He's pretty special," Seager said of the Mariners' pitcher who tops the Majors in strikeouts. "You see great hitters taking terrible swings. Anytime you get a guy doing that kind of thing, you know his stuff is the real deal."
(Reporting By Gene Cherry in Raleigh, North Carolina; Editing by Greg Stutchbury and Amlan Chakraborty)
Reuters - Reuters content is the intellectual property of Thomson Reuters or its third party content providers. Any copying, republication or redistribution of Reuters content, including by framing or similar means, is expressly prohibited without the prior written consent of Thomson Reuters. All rights reserved.