It didn't take long after the Olympics for Kobe Bryant to get back on the hardwood. Bryant was on hand for the second annual Sprite China Charity Basketball Game in Shanghai, and his competitive juices promptly started flowing.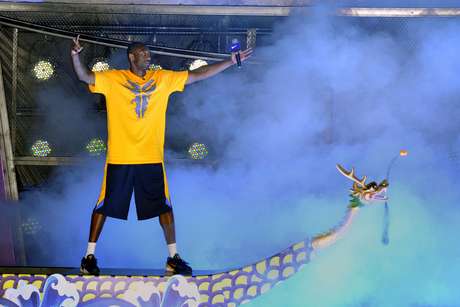 The Lakers star sat on the sideline as his team fell into a nine-point hole. At that point, the fans (as a result of some wacky rule) decided 20 more points would be added to the opposing team's score, meaning Bryant's squad now faced a 29-point deficit. Time to go to work.
Sure, it was just a charity game, but the crowd wanted excitement, and who better to give it to them than the NBA superstar?
"I wanted to play it cool but what the heck, the place was packed with fans who'd sang an early happy birthday to me and really wanted to watch me go to work," Bryant posted on his Facebook page. "My teammates were down. They are all singers/actors and do not play ball much AT ALL, but they are very successful at what they do hence they are VERY competitive. They asked if I could bring them back in the second half."
Bryant brought them back alright. The veteran baller dropped 68 points to lead his team to victory -- and these are 15-minute halves, mind you.
"I didn't want to disappoint them or the fans that had paid their hard earned money for a show so I took the challenge of really using the second half as a training session for my stamina. I ran and ran and ran," Bryant continued in his post. "I wound up scoring 68 in the 2nd and we won. Like I said, they are not basketball players by any stretch of the imagination. I was just having fun with all of them and loved hearing the crowd enjoy the show we put on."
Well, Kobe, I'm also glad you decided to light up the scoreboard. Because of your dominant effort, we all now have the privilege of watching video of one of the more bizarre charity games I've ever seen.
Behold, the second annual Sprite China Charity Basketball Game, complete with a boisterous crowd, flashing lights and lots and lots of Kobe Bryant.

Sports News-Red, Sox, Bruins, Patriots, Celtics