Juan Manuel Marquez's impressive knockout of Manny Pacquiao Saturday night has generated numerous reactions, like that of American boxer Floyd Mayweather Jr. , who showed his softer side and wished Pacquiao well.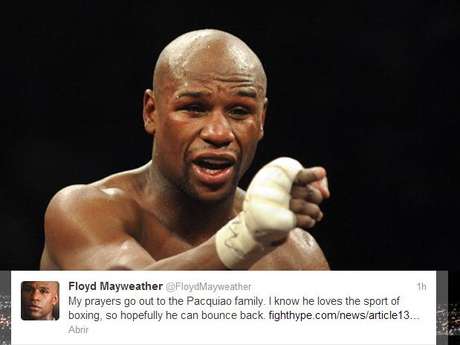 "These things happen," he said. "You learn from what happens. The only thing you can do is recover like a true champion."
Mayweather also admitted that both fighters are true champions and he praised the performance of both during the fight.
"Marquez is a true champion, Manny Pacquiao is a true champion, both were strong and had a good fight, and that is something good for boxing," Mayweather said.
Mayweather also had words of encouragement for Pacquiao , and wished him a speedy recovery.
"I only wish Pacquiao the best," he said. "I hope he can come back from this. In boxing, you have to really dedicate yourself to this art. You have to really, really dedicate yourself to the art. I think he has a lot of things that are preoccupying him."
He also talked about what the Filipino boxer wshould do in the future.
"Pacquiao's focus should be on trying to take a vacation, recover his senses, and get some fights so he can recover," Mayweather said. "I'm not here to talk bad about Pacquiao. I feel bad for him, that's the truth. Really, I feel bad for him."
Mayweather also sent his best wishes to Pacquiao and his family , a message he also tweeted.
"I hope that he is well," he said. "May prayers go out to the Pacquiao family. I know he loves the sport of boxing, so hopefully, he can bounce back."
With información from Fighthype.com.