Boxer Floyd Mayweather was released from a Las Vegas jail early Friday after serving two months of a three-month sentence in a misdemeanor domestic battery case.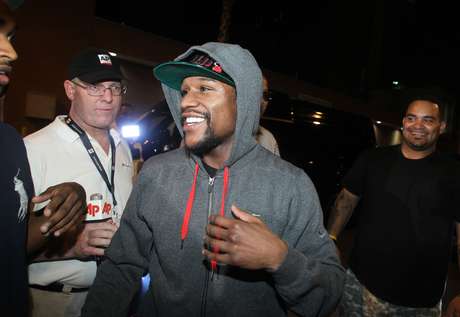 The undefeated boxer who goes by the nickname "Money" walked out of the Clark County Detention Center in darkness to resume a boxing career that his lawyers and personal physician warned in court documents might be at risk because jail food and water didn't meet his needs, and lack of exercise space in a cramped cell threatened his health and fitness.
Mayweather received about 30 days off his 90-day jail sentence for work time and good behavior. He didn't speak as he got into a blue Bentley sedan just after midnight and drove himself away.
His next opponent wasn't immediately clear. Mayweather manager Leonard Ellerbe did not respond this week to repeated messages from The Associated Press.
Promoters for Mayweather's main rival, Philippine boxer Manny Pacquiao, plan a fight Nov. 10 at the MGM Grand Garden arena in Las Vegas, Nevada Athletic Commission executive Keith Kizer said Thursday. Pacquiao's opponent hasn't been named, but Mayweather wasn't believed to be on the list.
To fight in Las Vegas, Mayweather will need a new license from the Nevada Athletic Commission, Kizer said Thursday. His last license, for a May 5 bout against Miguel Cotto, was for one fight only.
If Mayweather applies, commission Chairman Raymond "Skip" Avansino Jr. could decide to grant approval administratively or summon Mayweather before the panel for a public hearing, Kizer said.
The 35-year-old boxer pleaded guilty last year to reduced domestic battery charges stemming from a hair-pulling, arm-twisting attack on his former girlfriend, Josie Harris, while two of their three children watched. The plea deal allowed him to avoid trial on felony charges that could have gotten him up to 34 years in prison. Harris and the children have since moved to the Los Angeles area.
As a high-profile inmate, police say Mayweather had a solo cell and was kept separate for his protection from the other 3,200 inmates in the downtown Las Vegas facility.
AP - The Associated Press. All rights reserved. This material may not be published, broadcast, rewritten or redistributed.