Hackers hit Major League Baseball teams' Facebook pages with phony postings on Thursday, including an announcement that New York Yankees star Derek Jeter would undergo sex change surgery, the sports site Deadspin reported.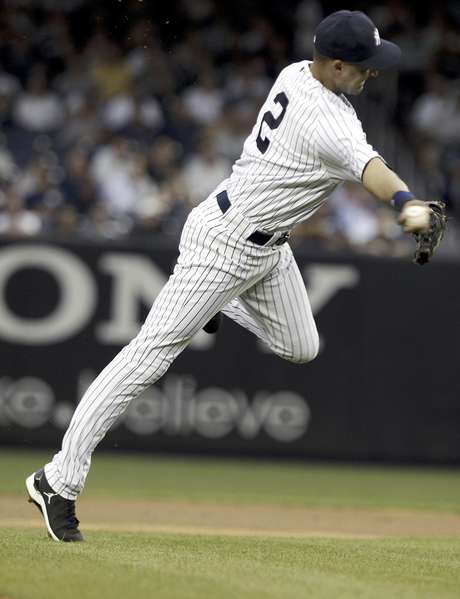 "He promises to come back stronger than ever in 2013 as Minnie Mantlez," said a posting that was quickly removed from the Yankees' page. Hall of Famer Mickey Mantle was a Yankees' slugger in the 1950s and 1960s.
The Miami Marlins' page falsely announced a pit bull giveaway. The animal is banned in Miami-Dade County.
The Chicago White Sox, President Barack Obama's favorite team, purported to endorse Republican presidential candidate Mitt Romney, while the Washington Nationals' page said the team, which used to be the Montreal Expos, was moving back to Canada.
The sites of the San Francisco Giants, San Diego Padres and Chicago Cubs were also hit with fake posts, some of them profane or insulting. The messages were quickly removed and the teams posted notes explaining that they had been hacked.
"For a brief moment today, a few MLB Club Facebook accounts were hacked and inappropriate material was briefly on display from those Clubs' pages on Facebook. MLB Advanced Media oversees these Facebook pages on behalf of the Clubs and regrets this occurrence," Major League Baseball said in a statement.
"We are working with Facebook, Major League Baseball Security and, where appropriate, legal authorities to determine the circumstances surrounding this situation," it added.
(Reporting by Jane Sutton; Editing by Peter Cooney)
Reuters - Reuters content is the intellectual property of Thomson Reuters or its third party content providers. Any copying, republication or redistribution of Reuters content, including by framing or similar means, is expressly prohibited without the prior written consent of Thomson Reuters. All rights reserved.