After catching a glimpse o f Rex Ryan's ar m tattoo, his bizarre calf ink suddenly looks less insane.

All of Ryan's hard work this season — one that saw the Jets go 6-10 — is paying off, as he was spotted Thursday catching some rays down in the Bahamas. One glimpse of the sunbathing coach, however, revealed that he actually has more body art than originally believed.

In addition to his calf tattoo, which consists of "a mountain, s ome waves and some sharks," Ryan apparently has a tattoo of his wife on his arm.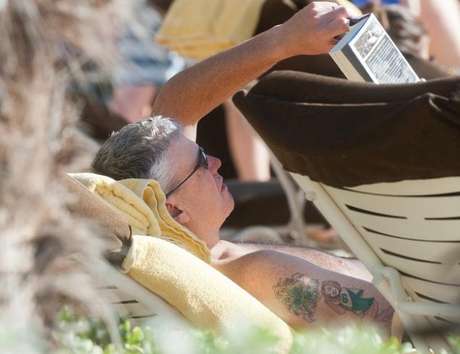 The fascinating part about the arm tattoo isn't just that it's an image of his wife — although that, in and of itself, would have been somewhat questionable. Instead, what really lands Ryan's ink in the weird category is that his wife — at least, it looks like his wife — is donning a Jets No. 6 jersey, no pants and rather large feet.
In other words, imagine a tattoo you would come up with to make fun of Ryan, and that's what you've got. Ryan has constantly stuck by Mark Sanchez throughout the quarterback's lackluster career, but getting the signal caller's number tattooed onto a scantily clad cartoon of his wife crosses the line in terms of insanity. Then, toss in the very detailed tootsies that the cartoon version of Mrs. Ryan features, and you have instant ammunition to revisit the whole foot fetish dilemma of 2010.

And is Mrs. Ryan Tebowing ?
That's up for debate, but she's definitely in a Tebowing-esque pose. Given Ryan's unwillingness to use Tebow week in and week out, though, that part might just be a coincidence.

Then again, who knows? Perhaps Ryan decided to get a tattoo that reminded him of why he got fired.

Wait, he didn't get fired yet?

For more NFL news make sure to visit NESN.com.

Sports News-Red, Sox, Bruins, Patriots, Celtics