Denver Broncos and Seattle Seahawks players and coaches fielded questions from how they would handle the frigid temperatures to what Winter Olympics sport they would play if they weren't in the NFL during the official Super Bowl Media day. For Seattle defensive lineman Michael Bennett it would be curling, he said.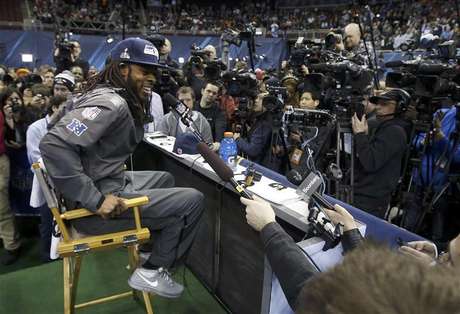 Perhaps the weirdest exchange of the day came when cornerback Richard Sherman was asked how NFL players could deter women from becoming strippers, simply replying that "I guess trying to understand that there are other avenues, other ways to make money, that women can do anything they want in this world."
On the other hand, star running back Marshawn Lynch only appeared for six minutes out of the mandated hour, showing up in a hoodie and sunglasses.
Costumed superheroes and historical characters mingled with international media and NFL cheerleaders, as the Rutgers University band played "Eye of the Tiger."
Broncos head coach John Fox said he was confident they would get through the day and then re-focus on preparing for the game.
"Most of these guys have been exposed to working with the media," Fox said. "Maybe not quite in this volume, but these guys all follow the game, they have watched many media days and Super Bowls and I think it's a neat experience."
Among those firing off questions at Fox was a boy who had been chosen NFL Play 60 Super Kid in an online contest. He thrust a microphone at the coach and asked how quickly he should run the game ball out onto the field on Sunday night.
"As fast as you need to go to be safe," Fox said. "We don't want you getting hurt or doing a face plant. Be under control, but be efficient."
The boy, Thomas Brown of Virginia Beach, said he was happy to get a chance to talk to the coach but had no plans to become a reporter when he grows up. Asked what he wanted to be, he replied: "A player, probably."
Seattle wide receiver Golden Tate turned the tables on the media, filming the TV crews packed around him with a small camera clipped to the brim of his cap. He said he planned to make a film for his fans.
"I want to edit it out and make a really good video, to say thank you for all the support that you have given us," Tate said. "This is special, this is something that a lot of people have dreamed about."
Seattle center Max Unger, whose luxuriant beard has become the subject of a lot of fan attention this season called the atmosphere "madness."
Despite the attention his facial hair has commanded, he added that - "win, lose or tie" - he is planning to shave next week.
Broncos cornerback Champ Bailey said he was eager to get back to practice sessions and studying the style of the Seahawks, who were due to face the crowd later on Tuesday.
"One thing you can't do is let your mind stray away from what you're here for," Bailey said. "We're here to win a game."
Lineman Orlando Franklin admitted that the size of the crowd was "kind of a shock," and voiced the same eagerness to get back to preparing for Sunday's game.
"In a couple minutes we'll be done with this and can get back to football," he said.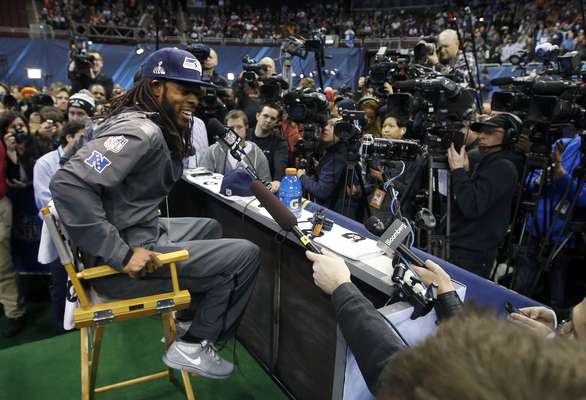 Reuters - Reuters content is the intellectual property of Thomson Reuters or its third party content providers. Any copying, republication or redistribution of Reuters content, including by framing or similar means, is expressly prohibited without the prior written consent of Thomson Reuters. All rights reserved.