Barcelona president Sandro Rosell said Real Madrid was the rightful winner of the latest Clasico but acknowledged that he felt there should have been a couple of penalties called in favor of his squad in Tuesday's Copa del Rey semifinal.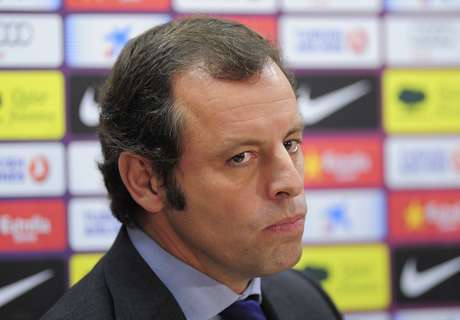 "Madrid is the just winner. It was a pity Pedro (Rodriguez) didn't make it 0-2 at the Bernabeu," Rosell said, referring to the possibility of coming into the game with an advantage, instead of a 1-1 tie.
He stood behind what interim manager Jordi Roura said regarding the game's referee -- Undiano Mallenco --before the match, saying it was based on statistical evidence.
He also agree with the penalty called on Gerard Pique for fouling Cristiano Ronaldo , but said there should have been others whistled, referring to two not called for plays involving Pedro. "There were others but that's how it is," he said.
When asked whether Barcelona's legendary run might be coming to an end, Rosell was unfazed.
"I don't see any slip in form. This is sport. We've gone five years with great results. We have to recognize that in soccer, memories are very short," he said.
As for criticism regarding his squad's style of play, Rosell said they would not switch tactics. "We don't counterattack. We have our style, it's what we teach here."