Just over eight months after receiving a liver transplant, FC Barcelona's French defender Eric Abidal has been cleared to start playing again with the first team by his doctors.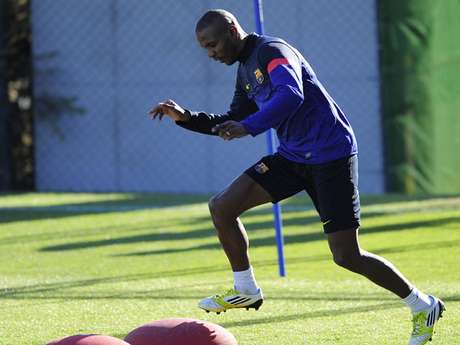 According to Spain's RAC1 , Abidal was given the okay to rejoin his former teammates after a meeting between his doctors at the Hospital Clinic, where the defender received a new liver in April, and the team's medical staff and directors.
According to the report, the reunion concluded with the decision that since Abidal had recovered favorably from the transplant he could continue on with his playing career.
With the holidays right around the corner, press reports in Spain have Abidal starting to practice with the first team in an incremental manner with the work expected to pick up in January and actual game minutes coming after that.
The 33-year-old defender, who played for Monaco, Lille and Lyon before joining Barcelona in 2007, has won numerous trophies with the Catalan club.
Early in 2011, Abidal and the team announced that he would undergo surgery to remove a tumor in his liver . He recovered from the surgery in time to play in that year's Champions League final that year only months later.
Unfortunately, in March 2012, Barcelona announced that more problems with his liver would require a transplant . Now, it appears Abidal will be back at the Camp Nou in coming months.