Half a game is all Lionel Messi needed to shake off a disappointing game against Peru for his national team in the midweek.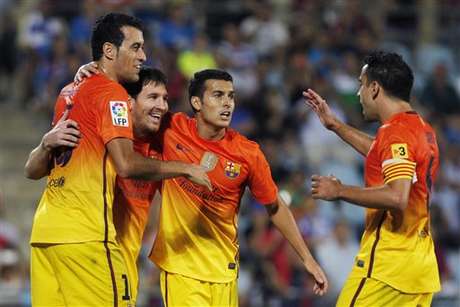 Used as a substitute for the first time in year, Messi scored twice as a second half to help a short-handed Barcelona win 4-1 at Getafe on Saturday as the Spanish pacesetters remained perfect through the league's opening four rounds.
With Andres Iniesta and others out with injury , Barcelona turned to Cesc Fabregas to lead the attack, and he responded by setting up Adriano for the 32nd-minute opener.
Messi went on with half an hour to play and scored a penalty in the 74th and the third goal in the 78th before David Villa , still finding his form after returning from a broken leg, joined him and scored in injury time.
The victory gave first-place Barcelona an eight-point lead over Real Madrid before its game at Sevilla, where Cristiano Ronaldo's mood will be scrutinized following his comments that he was "sad" with the club.