Three goals in the first sixteen minutes helped determine the outcome of the game early in the debut of Barcelona's new coach Tito Vilanova. Villa and Puyol returned from injuries and put their names on the scoring board.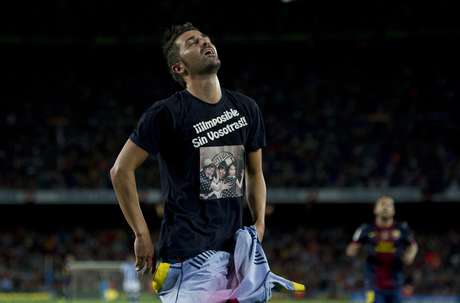 Four minutes into the game, the Blaugranas scored on the first chance they had, off a corner kick taken by Xavi that Carles Puyol headed it in easily.
Real Sociedad would level things also scoring on the first and only chance they had on the first half. Illarramendy set up Chori Castro who arrived on the left with no man on him and shot past Valdes to the top left corner. Tied 1-1 at the 9 th minute.
Real's happiness lasted only two minutes as Barcelona reacted quickly through Lionel Messi who managed to shoot while having four defenders on him inside the box, and beat Claudio Bravo.
At minute 16 th it was the best player in the world who scored again after an assist from Tello. Messi almost had the hat trick when he was face to face with Claudio Bravo who managed to save the shot.
Barcelona continued their dominance throughout the half and at the 41 st minute, a nice building play the Cules ended up in a nice cross from Tello to Pedro who shot to the opposite post.
With a three goal difference Barcelona slowed down a bit for the second half, controlling the ball but still approaching to Sociedad's box with Messi and Xavi creating a couple chances. Meanwhile Real Sociedad was close to score their second when Chori Castro's shot went wide by inches after Barcelona had lost the ball in midfield.
David Villa went in at the 75 th minute to appear in his first competitive match since he got injured in the Club World Cup match vs Al Sadd in December last year. Eight minutes later he scored Barca's fifth goal after a pass from Iniesta who also had come in earlier in the 58 th minute.
Barcelona is the first leader of La Liga and will visit Osasuna next Sunday.