The English Football Association charged Manchester United manager, Sir Alex Ferguson, with misconduct on Tuesday for implaying that a referee was biased against his team.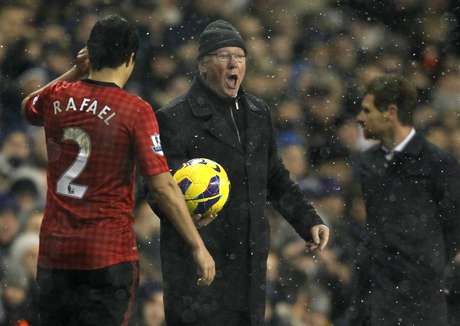 Speaking after a 1-1 draw at Tottenham earlier this month, Ferguson was angry that linesman Simon Beck didn't award a penalty when United was leading 1-0.

Ferguson claimed in a television interview that "t here was no way we were going to get a decision from" Beck, citing a 2010 decision to allow a goal by Didier Drogba to stand for Chelsea when the manager claimed the striker was offside.

The FA charged Ferguson after asking him last week to explain his comments.

"It is alleged the Manchester United manager breached FA Rule E3 in that he implied that the match official was motivated by bias," the FA said in a statement.

Ferguson has until Friday to respond to the latest charge he has faced from English football's governing body for comments about referees.

He received a three-match suspension in March 2011 for criticizing the performance of referee Martin Atkinson in the immediate aftermath of a loss at Chelsea.

Two matches were added to that sanction because of a previous suspended sentence hanging over him, resulting in Ferguson serving a five-match touchline ban. The suspended sentence stemmed from Ferguson questioning the fitness of referee Alan Wiley after a match against Sunderland.

Ferguson was also fined 10,000 pounds (about $16,000) and banned for two matches for berating referee Mike Dean after a game against Hull in 2008, a year after accepting a two-match touchline ban and 5,000-pound (about $8,000) fine for ranting at referee Mark Clattenburg at Bolton.

In 2003, he was banned for two matches and fined 10,000 pounds (about $16,000) for directing bad language at fourth official Jeff Winter during a game at Newcastle.