Martin Dioos, forced to use a wheel chair due to an incurable disease called Duchenne, lived an unforgettable day with Lionel Messi as the star.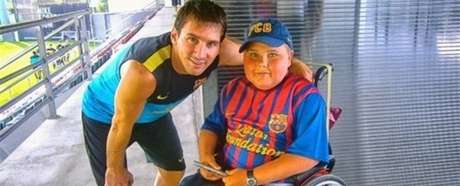 Dioos, 12, a resident of the Belgian city, Zwinjndrecht, met his idol whhile at Ciutat Esportiva.
Martin lives for Barcelona, so his uncle Marc committed himself to providing him with a trip to Barcelona. Along with family and friends they organized a fundraiser to collect the money for the trip.
"Messi told me everything will be okay. He gave me a special name with his shirt that I'm going to frame and hang in my room," he told the local paper "Gazet Van Antwerpen".
The life expectancy for males suffering from the muscular disease that Dioos suffers is 35-40 years.