Chelsea scored twice in the first seven minutes to overcome Wigan easily in the Blues season opener as manager Roberto di Matteo started his first full EPL season in charge. New Chelsea signing Eden Hazard had a good start as he originated both Chelsea goals.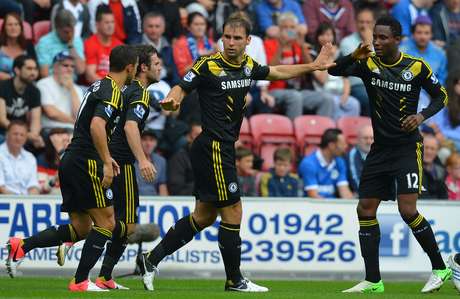 Wigan mistakes proved costly as Chelsea cashed in twice, which was enough to secure the win.
Two minutes in, Wigan on attack mode but Di Santo lost the ball in the middle giving room to Chelsea o set up the counter with Hazard who gave a nice pass to Ivanovic and the Serbian fired past goalkeeper Al Habsi.
Wigan had not recovered from the minute 2 shocker when three minutes later Eden Hazard stepped into the box and was brought down by Ramis. The penalty kick was taken by Frank Lampard to make it 2-0.
Wigan then took control of the game creating several chances, best ones from Di Santo and Moses but failed to capitalize in any of them.
Chelsea just had to ride out the second half, waiting in the back and setting up counterattacks. The best one came at 63 rd minute when Torres poked the ball past Al Habsi but Ramis cleared it off the line.
Another Blues new signing Brazilian midfielder Oscar also debuted after coming in for Hazard at 64 minutes.
Chelsea will receive Reading on Wednesday while Wigan will travel to Southampton.