Barcelona defender, Gerard Piqué ,, announced on his Twitter the birth of his son, with Colombian singer Shakira.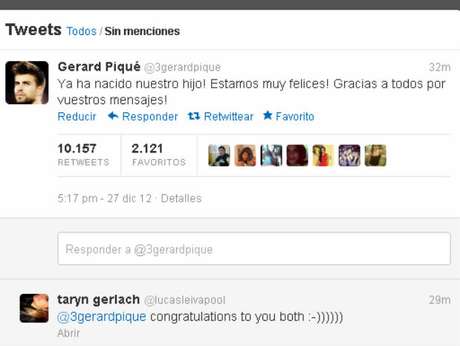 The player began with the following message, then thanked his followers for their support and congratulations:
"Our son has been born! We are very happy, thanks for all your messages," said ó Piqué on the social media site.
But, was it for real? Pique sent out the message right at midnight on December 28 local time . In Latin America and Spain December 28 is known as Dia de los Inocentes akin to April Fool's Day in the United States.
His prank was short lived however when Shakira's publicist came out to deny the reports:
"It's not true, its not true, that's all I can say. She will likely give birth in mid February, that's all we know for now," said the Mexican paper, El Universal.
We wonder what Shakira had to say about the innocent prank? We think Pique may have gotten a nice talking to this morning