Real Madrid manager Jose Mourinho did not hold back in his criticisms as his team against stuttered in La Liga, this time in a 1-0 loss against Sevilla.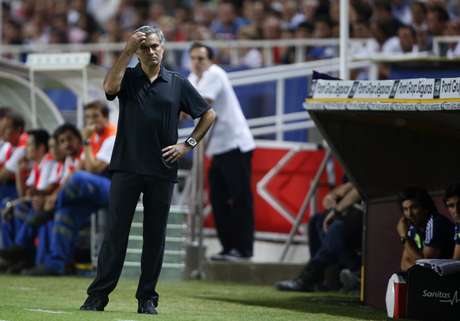 The outspoken Mourinho claimed that he didn't have enough changes to get out all the players that weren't working and said only two or three players were focused while the rest were focused on issues off the field. To close the press conference Mourinho stated that "right now I don't have a team."
The manager was able to praise Sevilla, saying they deserved to win while his team, "deserves the prize for the worst game we have ever played."
The issue was not simply the actions on the field, but once again the mentality of his team which he had already called out in the loss against Getafe.
"It's about the collective attitude because right now there are few players I can separate. I have few heads that are focused and committed, who believe soccer is the priority in their lives. If we are not committed its my fault."
Mourinho's anger, and Madrid's crisis, was such that he proposed a change to the rules so he could have more susbtitutions to take everyone off the field.
"At halftime I made two changes, but I should have made seven if I could have. We should have made more changes."
It was not over for the Portuguese manager whose trantrum finally finished imploding when he was asked about Barcelona's eight point lead in the league.
"I'm worried about my team, not about the difference. I'm worried because since the season started we have only played the Supercopa. More than the points I'm worried because I don't have a team right now."
It's poor timing for the Spanish club to face the sort of crisis generated by the game, and likely exacerbated by the manager's comments as they kick off Champions League play on Tuesday against Manchester City.