When Diego Maradona speaks, people listen.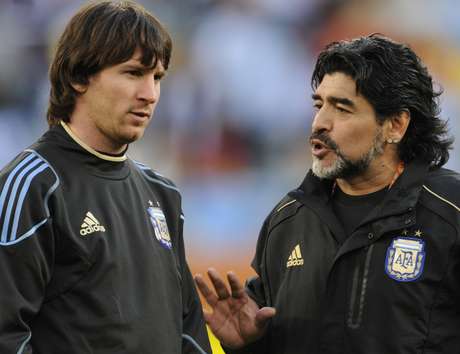 The iconic Argentine playmaker is never one to hold his tongue and in an interview he gave to Spain's Marca over the weekend, Maradona spoke at length about the some of the biggest name in world soccer – including Lionel Messi, Cristiano Ronaldo, Jose Mourinho and Pep Guardiola .
Maradona watched Real Madrid defeat Barcelona for the second time in a week at the Bernabeu Stadium before flying off to see his grandson in England – son of Sergio Aguero and his daughter. He had plenty to say about Messi, who has received criticism as of late for subpar performances.
"People have to get it straight in the minds, his name is 'Lionel,' it is not 'Savior.' He's called Lionel. I want to be just, so that everybody understands, I don't want to defend him just for the sake of defending him, but I also don't want to criticize him unjustly."
"I don't think that for just two (poor) games you can kill Leo, with everything that Messi has done, scoring five goals in each game of the year. It can't be. People think that Cristiano is better, but I say Cristiano is always what he has been, a phenomenon, he's not more now and he wasn't less before. He played great in Manchester, here (Madrid) and everywhere. He's an animal ."
Maradona went on to talk about Ronaldo, who plays with Real Madrid against Manchester United in England, where Maradona is scheduled to be, on Tuesday.
"I saw him Saturday and physically he looks even bigger in person. He looked to me like a giant . Speaking with Mourinho, he told me that Ronaldo is a great professional who always wants to play. The point is that you can't blame Leo because you lose two games. If that were the case, you'd have to blame Ronaldo when Real Madrid loses two games. That's not how it should be."
Maradona also chimed in regarding the possibility of Mourinho leaving Madrid after the season.
"Obviously, they would miss him. You always miss the great ones. And Mou is great, like Pep . In Barcelona they cry over Pep, and a lot. You always miss the great ones."
" Pep and Mou are two great chess players. Now, Mou was left playing alone , because Tito (Vilanova, Barcelona's current coach) is a great guy, and hopefully he recovers (from Cancer), but Pep had developed the identity of the team. Barcelona has come apart totally without him."
Finally, Maradona gave his opinion on two other players, his son-in-law Aguero, who Diego has said would be a great fit for Madrid and defender Pepe.
"'Kun' would be the solution for Real Madrid's future, and for Ronaldo, a perfect complement. Sergio is pure movement, while (Karim) Benzema and Pipita (Higuain) are two impressive tanks who can roll over defenses, but who clash with CR7. One of these days Cristiano is going to run over one of them two. Sometimes I think they are going to have to put a traffic light to regulate all the traffic in between them."
Regarding Pepe, he said: "L ook, Pepe is a player from my era, who goes with everything to each ball. To kill, or die, like 95 percent of us used to . "