Imagine you are online playing FIFA Soccer 11 on your Play Station against somebody who insists on keeping possession of the ball, even if it means passing the ball back and forth.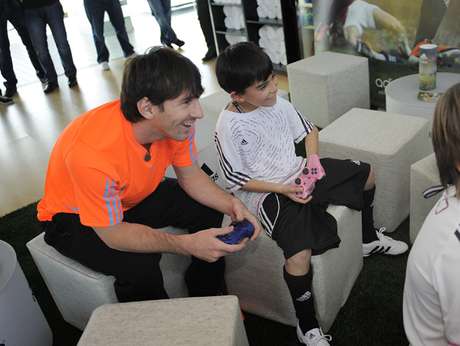 Your opponent annoyingly tries to simulate FC Barcelona' s tiki taka style to the point where you get mad at them and maybe even go on an online rant against them.
Gamers beware: you might be insulting none other than the world's greatest player – and we don't mean video game player. We mean real life player. As in Lionel Messi.
Messi admitted that he likes to play online soccer without revealing his identity .
"I play Play Station online, against people from all over the world who don't know that it's me. Sometimes they get mad at me because I start playing the ball back to waste time," he said.
The revelation was only one of several made by a candid Messi to TyC Sports in Argentina.
Despite being admired the world over, as is his team Barcelona, Messi showed a bit of paranoia when saying that there were many who rooted against them.
"I know there are a lot of people who are waiting for us to lose and not win anything, but that doesn't interest me," he said.
"I've heard just about everything, all kinds of things about me from people who are now talking well about me," he added.
The Argentine playmaker when on to talk about the styles of play of Barcelona and his national team.

" We don't know how to play any other way and sometimes we pay for it ," he said, of Barcelona's possession-heavy style of play. "We always play like that… having more possession of the ball allows you more chances for goals."
Surprisingly, he said that with his national team, the style of play was more reminiscent of club rival Real Madrid .
"(Argentina) has a style of play similar to that of Real Madrid. Wait for the right time, go on the counterattack and score. We have players for that style," he said.
The striker said that his objective was to return to Rosario to live, although he was living spectacularly in Barcelona. He added that his greatest desire was to win the World Cup in Brazil and admitted that he cried in the locker room when Argentina was eliminated in South Africa.
Messi had some moments of introspection like when he acknowledged foolish behavior in the past.
" One time (Pep) Guardiola substituted me against Valencia when we were winning 4-0 and I got mad. It was silly ," he admitted.
Messi also credited his past coaches and teammates with his development but most of all his father, who pushed him to succeed when he was young.
" My father always had something to criticize me about . Few times he told me to do well, and that helped me to grow game by game."