Barcelona could have been looking forward to a mid-week clash against European giants AC Milan in the Champions League next week as they slipped up in the first half against relegation threatened Granada and went into halftime 0-1 down in Saturday's Liga BBVA action.

But the second half was a different story.

After uncharacteristically missing several chances in the first half, La Liga's leading scorer Lionel Messi scored a poacher's goal early in the second to level the game at 1 and then curled in a free kick to put Barcelona in front. Messi's reached 37 goals for the season of the season and a record 13th straight game where he has netted.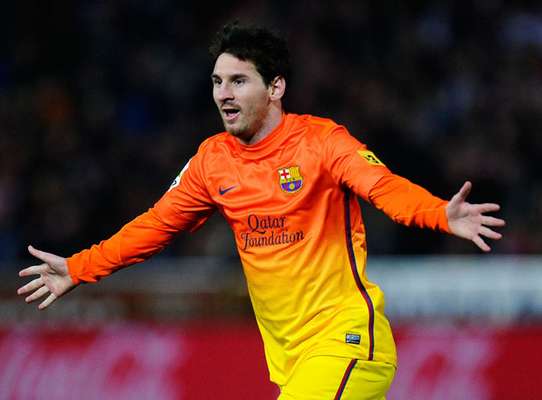 Messi's first goal gave him 300 for Barcelona and his second made it 301.

Though Messi has been slightly off color in recent matches he continues to score at record levels, even for his lofty standards. To this point, he has scored 12 more goals than Cristiano Ronaldo , who himself has a strike rate of more than a goal a game.

The first half saw Barcelona Rodriguez dominate possession as per usual but they were put under a good deal of pressure by an effective Granada counterattack.

After Messi and Alexis Sanchez and other missed chances, Granada's Odion Ighala made them pay as he finished off a good move from the home team although his positioning could have been judged offside at the point of the last pass.

In the 65th minute, Pedro Rodriguez drove a whistling low screamer off the post but it hit off the post and in the second half two goals for Barcelona were waived off for offside but which appeared to be legitimate according to television replays.
Victor Valdes , Barcelona's goalie who said he would not renew his contract with the club when it expires next year, had a big save to preserve the victory in injury time.

Barcelona is now 15 points ahead of its closes pursuers, Atletico Madrid, although the Colchoneros can move back to 12 if they win tomorrow. Real Madrid is a whopping 19 points behind..

Barcelona came into the match with several changes to their typical starting lineup including the absence of midfielders Andres Iniesta and Xavi Hernandez , the latter due to injury. Iniesta who has been on top form lately, came in for the last 20 or so minutes.

Substitute Christian Tello missed a couple more chances to add to the score line for Barcelona and raised the ire of Messi and Iniesta, both of who reprimanded the younger player for selfish play.