On April 8 th , 2010 Mexican soccer was pleasantly shocked after the announcement made by club Chivas Guadalajara that Javier 'Chicharito' Hernández had been acquired by Manchester United for an undiscloses sum and would join the English team after the World Cup.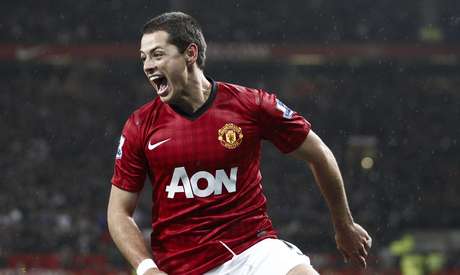 It was an unexpected move by Chivas´owner Jorge Vergara. The negotiations were kept confidential, nobody in the media had talked mentioned it , there was never a transfer rumor, like the ones Mexican media publish anytime a player becomes a star in the league.
With his participation this Sunday against Swansea,'Chicharito'completed 100 games with the 'Red Devils' . It took him a Little bit over two years to achieve that mark.
After 100 matches, 'Chicharito' has won Man United fans' hearts, not only because of the goals he's scored but for his charisma and determination to succeed at one of the world's most popular clubs.
Even though he's been affected by injuries and has played 41 of the 100 matches as a substitute, Hernández has managed to score 41 goals with United, appearing in every tournament possible in Europe and winning the 2010-11 Premier League title.
With the arrival of Dutch striker Robin van Persie to Manchester, rumors about a possible exit of 'Chicharito started pouring, which linked him to at least 4 different clubs. The 24-year old stayed for the 2012-13 season and has scored 9 goals in all competitions so far.
The following is 'Chicharito' Hernández goal breakdown with Manchester United (he also has a total of 9 assists):
Goals
Premier League 28
Champions League 7
Europa League 2
FA Cup 1
League Cup 2
Community Shield 1