With a goal from Eduardo Herrera, Pumas rescued a 1-1 draw Saturday against Cruz Azul in Week 6 of the Clausura 2013.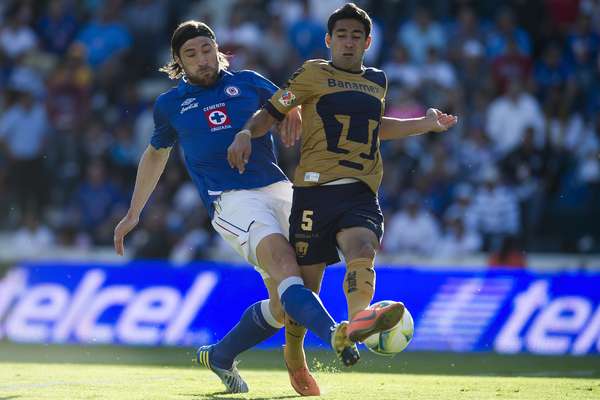 Mariano Pavone converted a penalty kick in the 22th minute to put Cruz Azul ahead, but Herrera's long distance shot got the equalizer in the 44th minute.
Cruz Azul has no lost in the Clausura and has 10 points to currently be fourth in the general standings. Tigres and Tijuana, with 13 points each, still have games pending.
The team has not lost at home since April of last year while Pumas got its third draw of the season to reach six points to be in the 12th place in the standings.
The game had a virbrant first half, with Cruz Azul having the first dangerous occasion in the fourth half on a cross from Gerardo Torrado but Pavone's kick went just wide.
Pumas responded in the ninth with a shot from the Paraguayan Robin Ramirez awas cleared by Jesus Corona.
Torrado entered into the area on the left wing and Marco Palacios brought him down for the penalty kick which Pavone converted against his brother Alejandro Palacios.
The Argentinean Nicolas Bertolo could have amplified the lead in the 24th minute on a shot inside the area, while Pumas responded with Martin Bravo in the 31st with Corona rejecting the shot.
The equalizer came on a long 40-meter pass from herrera in the area with the strong shot.
After the half, Cruz Azul had clear opportunities in the 45th minute, when Pavone's shot was cleared on the line by Martin Romagnoli and in the 72nd when Gerardo Flores connected on a header but Palacios was able to clear it for the corner.
Pumas started to dominate the match in the final minutes and had one last chance in the tth imnute, when herrea could not finish in the area.

AP - The Associated Press. Todos los derechos reservados.Este material no puede ser copiado, transmitido, reformado o redistribuido.