For the first time in five years, the MLS All-Stars finally toppled a European giant, though it was a shorthanded Chelsea squad they beat Wednesday night.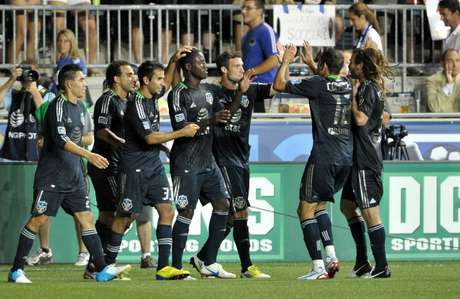 With one minute left in stoppage time, substitute Eddie Johnson's deflected shot found its way into the Chelsea net, and the All-Stars escaped with a 3-2 win against the Champions League titlewinners.
Just moments before, a Florent Malouda shot appeared to hit All-Star Jay DeMerit on the arm inside the box, but the referee did not award a penalty.
Chelsea broke a 1-1 tie in the 59 th minute when Frank Lampard found himself alone on the far post on a cross, and knocked the ball into the empty net.
The All-Stars tied it in the 73 rd minute, when David Beckham lofted a long ball to a streaking Dwayne De Rosario down the left side of the field. De Rosario waited for a streaking Chris Pontius , and his D.C. United teammate blasted the ball into the net.
Chris Wondolowski started the scoring and continued his hot streak, as the MLS goal-scoring leader tapped in his own rebound in the 20 th minute to give the All-Stars a 1-0 lead.
Veterans Landon Donovan and Thierry Henry set Wondo up, as Donovan fed Henry on the left side, and Henry crossed the ball in to Wondolowski, who eluded a diving John Terry to put the All-Stars ahead.
But Terry got his revenge in the 31 st minute, as he headed home a corner kick to tie the score.
Some of Chelsea's stars were not in the lineup, including goalkeeper Peter Cech .
Pontius was named the All-Star Game Most Valuable Player.