With nine years still to go for the event, Qatar is already preparing for the 2022 World Cup as they released images of what the first stadium, "Rock Stadium", will look like.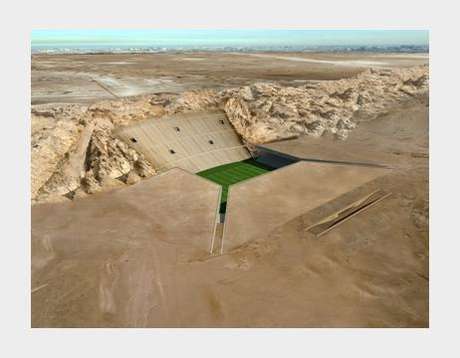 Play our Champions League memory game with the tournament's best hair dos

The futuristic stadium located in the outskirts of Abu Dhabi, in the Jebel Hafeet Mountains, will begin construction in 2013 with a capacity of 30,000 spectators and a cost of approximately 750 million Euros (971 million dollars). The stadium is the brainchild of Libanese firm, 'MZ Architects', allowing visitors to explore the dessert while attending the events.

In order to avoid damage from the extreme weather, including sand storms, the stadium will be built under the sand with a retractable covering that will only be opened when the stadium is in use. The location will also allow the minimization of shadows and glare.

Th e stadium won the award as the Best Future Building of 2012 from the LEAF Awards in London.
Interactive Bracket: Pick the best player of the Champions League