Soccer fans obstructed roads and a rail line in Egypt's capital on Wednesday to demand swift punishment of rival supporters and policemen blamed for the deaths of 74 people in a stadium disaster last year.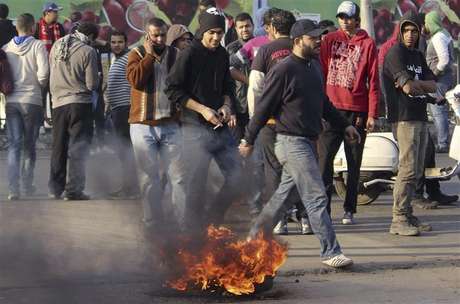 A verdict in the case is due at the weekend, when thousands are expected to mark the second anniversary of Egypt's Arab Spring uprising with street protests against the Islamist-led government.
The fans, who took a frontline role in the toppling of autocratic leader Hosni Mubarak in 2011, held a silent protest in front of the stock exchange building in central Cairo, disrupted services at a central subway station and blocked a busy road bridge across the Nile.
The protests did not affect bourse operations.
Graffiti they daubed on walls near the bourse warned of their reaction if the court verdict due on Saturday falls short of their demands.
"January 26: the cost of blood is blood," read one.
A sticker on another wall said: "January 26: Justice or Chaos."
The disaster last February at the Port Said stadium took place during a match between Cairo's Al Ahly and local side al-Masry.
Many of those killed were crushed when panicking fans tried to escape from the stadium after a post-match pitch invasion by Masry supporters. Others fell, were thrown from terraces or beaten to death, witnesses and state prosecutors said.
Many fans accused security forces of sparking the stampede to punish them for their role in Mubarak's downfall.
Sixty-one people are charged with murder and 12 others, including nine police officers and three al-Masry club officials, with helping cause last year's disaster.
The public prosecutor has called on the Port Said criminal court to re-open pleadings, saying new evidence had emerged in the case, the state news agency MENA reported, meaning the verdict may be postponed.
(Reporting by Shaimaa Fayed; Editing by Tom Pfeiffer)
Reuters - Reuters content is the intellectual property of Thomson Reuters or its third party content providers. Any copying, republication or redistribution of Reuters content, including by framing or similar means, is expressly prohibited without the prior written consent of Thomson Reuters. All rights reserved.