Florentino Perez, Real Madrid president, referred to the "support and unity of the madridismo" in a holiday message released by the club.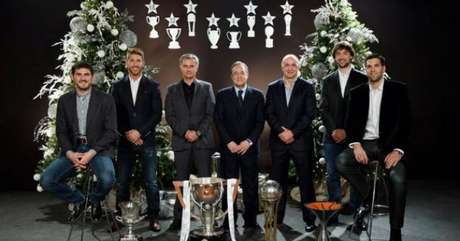 The top Madtrid official signaled that "the best thing this year have been the successes in soccer and basketball, but also the economic stability of the club and its institutional stability."
"All of this has been thanks to the support and unity of the fans, which are the most important aspect of the club, said Perez before the Holiday break.
"These Christmas holidays have always been very enjoyable for me because we spend them with friends and family. Also, in this case, we must remember the death of my wife and to remember all that had difficulties, knowing none of the situations we are living are easy," he continued.
For Mou, highlight was hid kid's happniess
Jose Mourinho will take advantage of the break to be with his relatives , saying the best thing of the years has been "seeing his kids grow" with joy and health with a fantastic family. And, "to know that everyone in Portugal is healthy and we hope to enjoy Christmas."
Mourinho was also thankful for the professional success he found in 2012.
"Professionaly it was a year when we won the League, which was personally very important as it had not been done but it was also one of the important goals of the club."
Casillas most enjoyed La Liga
Iker Casillas, the first captain, said that "overall, the league title. It was very hard after a lot of time. He assured that "that is the path to follow and enjoy a complicated season. We broke a lot of records and lived a lot of good moments like winning in Camp Nou with four or five games to go, practically deciding the title.
Sergio Ramos, the team's second captain, highlighted the "unforgettable moments" that added to his professional success and personal growth.
Every year we learn new things and right now we have to be optimistic, ambitious and the motivation to keep winning. If I had to pick a moment I would say La Liga, which was important because of the numbers we achieved. Also, with the success in my life, personally I thank those that have always been there and showed constant love throughout my life."\