Cristiano Ronaldo has been accused of being arrogant, selfish and a bit too full of himself and in one of his latest interviews he does little to dispel those sentiments. Even so, the Portuguese superstar wasn't afraid to poke fun at himself and came across rather pleasant in the interview he gave Britain's The Sun on the eve of his current club's (Real Madrid) clash with his former team (Manchester United) .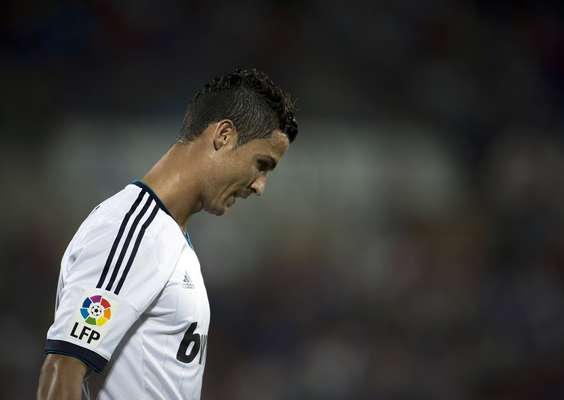 Former Manchester teammate Wayne Rooney said in his book that Ronaldo couldn't stop looking at himself in mirrors and when asked whether he could "walk past a mirror without stopping to look at himself?" Cristiano laughed it off.
"Ha, this is not true, this is a joke! I don't remember who said that about me, but it's not true. I'm not standing in front of a mirror for 30 minutes."
Still, CR7 managed to put a cocky spin on the subject.
"I promise you the maximum is one minute, I swear. When you have good hair like me it's easy to style it! "
When asked about crashing his Ferrari while he played for the English club, Ronaldo was equally frank.
"I didn't care about the car to be honest — I cared about my legs! When I climbed out the car I actually smiled. I thought, 'It's OK, I'm good'. The car is not important, your life is the most important. Crashing a car can happen in life, you can crash an Opel, you can crash a Ferrari — it's not nice and I don't want it to happen again."
With regards to his copious bank accounts, Ronaldo acknowledged that making a lot of money once drove him, but now he had other motivations.
"I'm not going to say I don't care about the money. Money is important, of course. But it is not the most important, it is not my priority. Maybe when I was young at Sporting Lisbon it was — they didn't pay me good and I wanted to buy this and that. But when you get to a certain point in life the money doesn't give you motivation. It is not the money that gives me the motivation to play or train every day and try my best all the time."
He did have a difficult time recalling what his most extravagant purchase was ever, agreeing that there have been so many.
"To buy a fancy car, a big watch or jewelry. The most extravagant of all? Probably a car! But why not? You should be able to enjoy your life, enjoy the good things in life. It is not wrong to do big things like that as long as you have the right balance in your life.
"Fame brings good things and bad things and you have to adapt and you have to find the balance. I know now how to deal and cope with it. It's still tough, but it's OK."
When asked about the advantages and disadvantages of his incredible fame, Ronaldo was humble for a moment, and then reverted to his more extroverted self.
He said he most enjoyed "(being) able to do what I love to do and be happy about my life. I have a great life and a great family."
Then he talked about the negative. "To be too famous. To be this famous is not good, it is very hard — there's so much stuff that's bad about it. I don't have a normal life. A normal life doesn't exist for me. To go in the street, to go shopping, to do whatever I want – it's impossible. Wherever I go in the world people recognize me, everywhere you go."
The soccer player also answered questions about the possibility of rejoining the Red Devils at some point in his career, but made it clear that he was happy with Real Madrid, despite publicly complaining about " sadness " last year.
"I am a player of Real Madrid and I'm happy here, my family is happy and everything is going well for me here. The future? I don't know — only God knows the future. I can't say I'm never going back to Man United — but I can say I'm good here and I want to be here. Let's leave it at that and see what God gives me in the future — but I repeat I am happy here."
Ronaldo ended the interview by shooting down a suggestion that he could play for United's rivals, Manchester City.
"To play for City not United? I'm not going to do that. Why? Because my heart's in Manchester United, that's why!"