Boca reached another final and specializes in beating Brazilian teams in this stage. Corinthians, a Brazilian great, is totally new to this instance.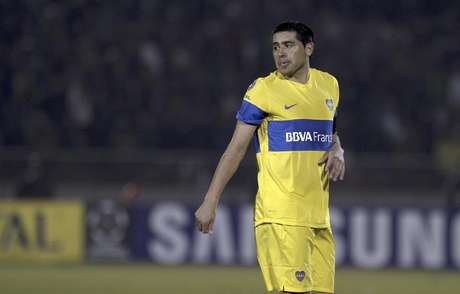 The South American Confederation gave some curious statistics to the match that will take place Wednesday night:

* This will be the eighth consecutive final to take place in Brazil. The previous seven finals were St. Paul (2005), Porto Alegre (2006, 2007), Rio de Janeiro (2008), Belo Horizonte (2009), Porto Alegre (2010) and Paul (2011).
* The stadium Paulo Machado de Carvalho, also known as "Pacaembu" where the game will second leg will be played, will host a final (either leg, ) for the sixth time. Before it was in 1961, 1968, 1974, 2002 and 2011 and the only team that could celebrate in this scenario was Santos, precisely in 2011.
* Corinthians is the twelfth Brazilian team to reach this tsage. Before such an honor had been Palmeiras, Santos FC, Sao Paulo FC, Cruzeiro, International, Flamengo, Gremio, Basque da Gama and Sao Caetano, Fluminense and Atlético Paranaense.
* Boca Juniors is the second team (after Peñarol) to reach ten finals in the Copa Libertadores. Those were in 1963 (vs. Santos FC), 1977 (vs. Cruzeiro), 1978 (vs. Deportico Cali), 1979 (vs. Olympia), 2000 (vs. Palmeiras), 2001 (vs. Cruz Azul), 2003 ( vs. Santos FC), 2004 (vs. Once Caldas), 2007 (vs. Gremio) and this in 2012 with Corinthians.
* Argentina is the country with the most Libertadores Cup finals with 31 decisions. Brazil follows closely with 29, counting for both the end of 2012, and taking in the singular the end of 2005 and 2006 where the two finalists were Brazilians.
* Whenever Boca Juniors defined a final against a Brazilian team in Brazil, they won. This happened in the 2000 edition with Palmeiras in São Paulo, with Santos FC in 2003 also in St. Paul, and in 2007 against Gremio in Porto Alegre.
* Of the previous nine finals contested, Boca Juniors has a clear balance in favor when defined outside their stadium "La Bombonera". In the 1977 final at the Estadio Centenario in Montevideo they celebrated with Cruzeiro, as in 2000, 2003 and 2007, except when it fell in 2004 with Once Caldas in Manizales.

Playing at home they have not been as lucky,. They lost the 1963 final at home (with Pele's Santos) and the 1979 (at Olympia), and won in 1978 (by thrashing of Deportivo Cali) and in 2001 (with a tough defeat against Cruz Azul on penalties) .
* This will be the 13th clash between Argentine and Brazilian teams in the final of Copa Libertadores. Argentina, with nine wins, won the finals in 1968, 1974, 1977, 1984, 1994, 2000, 2003, 2007 and 2009. Brazil on the other hand only won the finals of 1963, 1976 and 1992 and it has been 20 years since it has beaten a rival of its neighbor country for this tournament.
* Clemente Rodriguez , Rolando Schiavi , Pablo Ledesma and Juan Roman Riquelme of Boca Juniors have played in finals and they were all champions of America. Sebastian Sosa , the Argentine team goalkeeper, played as a starter for Peñarol in the final of 2011. Julio Cesar Falcioni , coach and played as goalkeeper for America de Cali the finals of 1985, 1986 and 1987 could not be crowned.
On the side of Corinthians, Danilo , Alex and Fabio Santos already know what it is to play a final and win. Danilo and Fabio Santos won the Cup in 2005 with Alex Sao Paulo FC and was important part in winning the International Cup in 2006.
* If Boca Juniors wins the tournament it will be the title number 23 for Argentina, which is the country that won the most Libertadores. If Corinthians is wins it would be number16 for Brazil.
* The player with most goals scored in a final is Thiago Neves , who in the second leg of the 2008 final, scored all three goals for Fluminense 3-1 against Liga de Quito, which, however, it was not enough to be crowned champion.