Tito Vilanova had his had his official unveiling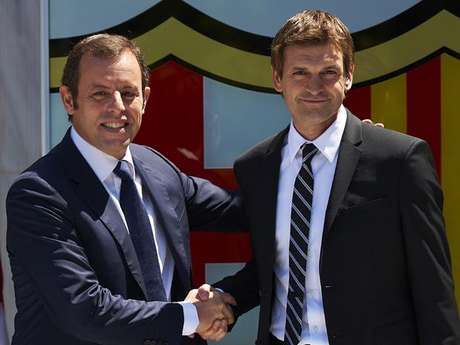 asthe new coach for
Barcelona
onFriday and immediately addressed questions abouthis legendary predecessor and friend, PepGuardiola.
Vilanova made it clear that he keeps an"extraordinary relationship" with the coach andwould not have taken the job had he not had hissupport.
Sitting before the Barcelona faithful in a suitand tie, Vilanova was overwhelmed by Guardiola'sname. Vilanova was accompanied by team president
Sandro Rossell
and athleticdirector
Andoni Zubizarreta
.
"It's such an honor to have been chosen tocontinue the most successful stretch in thehistory of the club, with the players fullycommitted. I accept the challenge and feelprepared," he said.
The relationship between Vilanova and Pep is sostrong that he even hinted that he would not havetaken the job if Guardiola had gone to anotherteam.
"We get along great. Our relationship is perfect;there is a friendship between our families. Thefirst thing I said to Zubizarreta was if there wasthe smallest change that Pep was not okay with thechoice, there was no reason to talk, "he added.
Vilanova had talked to Guardiola and it was madeclear to him that the resignation and nothing todo with
Barcelona's elimination form theChampions League.
Guardiola called him to hisoffice and told him that he wanted to rest andthat Vilanova was the choice to be his successor.
"I was surprised, I had no idea. The next day,when Pep told the president his choice, that'swhen I was offered the job. I asked for a coupledays to decide because I also was tired and hadpersonal situations to deal with," he said.
He refused to talk about
RealMadrid
and
Jose Mourinho
at the presentation, saying it was not the righttime after the episode that occurred at theprevious Supercopa (
whereMourinho poked Vilanova in the eye
).