Bradley Wiggins has been protected by his Sky mates throughout the Tour de France but the Briton took one for the team by leading out Edvald Boasson Hagen at the end of the 13th stage on Saturday.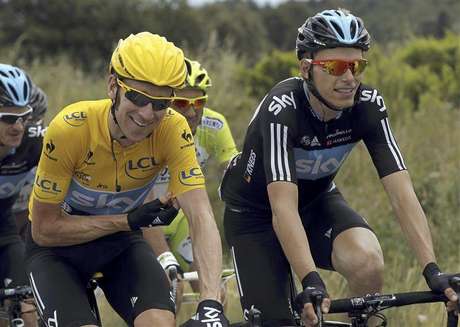 With Mark Cavendish missing the final sprint after failing to sustain the pace on the brutal climb to the Mont St Clair, Wiggins made an unexpected move for a team leader, let alone a yellow jersey holder.
"That was just the last kilometer, slightly downhill. It was the safest place to be and I wanted to try to repay a friend of mine," Wiggins told reporters.
The move helped Wiggins ""eliminate chances" in a potentially treacherous finale.
"Sometimes it is just best to be in the front, it is best to do the effort in first position than further down the peloton in 20th, especially when there are chances of splits in the bunch," he said.
Wiggins is taking nothing for granted as he continues his bid to become the first Briton to win cycling's most prestigious race.
"You have to pay attention to every single day, even a day like today because of the bends in the last 400 meters," he said. ""You have to be careful every day until Paris."
(Editing by Ed Osmond)
Reuters - Reuters content is the intellectual property of Thomson Reuters or its third party content providers. Any copying, republication or redistribution of Reuters content, including by framing or similar means, is expressly prohibited without the prior written consent of Thomson Reuters. All rights reserved.