Venus Williams' reinvigorating week ended with a gritty comeback that wasn't quite enough.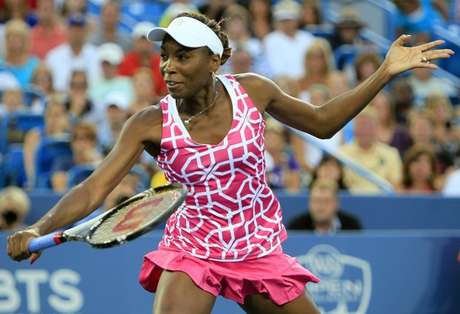 Williams played through a bad back that forced her to get treatment and reduced her second serve to 63 mph in the third set. China's Li Na reached the finals of the Western & Southern Open with a 7-5, 3-6, 6-1 victory on Saturday night.
Li is trying for her first title this season. She lost in finals at Sydney, Rome and Montreal, where Petra Kvitova beat her for the Rogers Cup title a week ago.
Kvitova played Angelique Kerber in the other semifinal on Saturday. Kerber ended Serena Williams' 19-match winning streak a day earlier.
Serena watched from a seat in the stands next to the players' tunnel while her older sister struggled with her back, showing the strain during her fourth grueling, three-set match of the week. By reaching the semifinals, she showed she's been doing a better job of managing an immune system disorder that causes tiredness and soreness in her joints.
The bad back was too much.
Her semifinal loss aside, it's been a kick-up-your-heels week for Williams, who faded last year because of injuries and the immune system disorder. She's on an upswing heading into the U.S. Open, which she had to miss last year because of the disorder.
She won an Olympic gold medal in doubles with her sister at Wimbledon, a moment she called the best of her career. On Cincinnati's hard courts, she reached her first semifinal of the season by winning one long match after another.
She was the more surprising of the Williams sisters to reach the semifinals. Serena was on one of her best stretches, winning Olympic gold medals in singles and doubles while putting together the third-longest winning streaks of her career.
Li had the most challenging time of the women this week in Cincinnati. She had the last match on Thursday night, and it got postponed by rain. She ended up playing two matches a few hours apart on Friday, winning both of them to reach the semifinals.
Li beat Johanna Larsson 6-2, 6-2 in the opener match on Friday morning. She took the court less than seven hours later and beat top-seeded Agnieszka Radwanska 6-1, 6-1, who had a sore shoulder.
On Saturday, she seemed much fresher than Williams, who lost games on her serve twice by double faulting. Williams had 21 unforced errors in the first set, which took 61 minutes.
After the third game of the second set, Williams called for the trainer. She placed a white towel on the court and lay face-down for several minutes while the trainer worked on her lower back. Williams went back out on the court and broke Li's serve to even the set at 2-all.
Williams had trouble getting anything on her serve — she moved stiffly — and ambled to her chair during breaks, leaning down to stretch her back. With the crowd cheering every point, she kept playing and kept winning, breaking Li again to go up 4-2 and serving it the set.
Before one serve early in the third set, she started to raise her arm to toss the ball and had to stop because of her back. She then served at 66 mph — and held serve. One of her second serves clocked 63 mph a few games later.
Williams pushed herself up to the end. She ran down a ball for a put-away slam in the last game, which Li won when Williams hit a return long — her 47th unforced error during the 2-hour, 8-minute match.
Williams smiled as he walked to the net to shake hands.
AP - The Associated Press. All rights reserved. This material may not be published, broadcast, rewritten or redistributed.