The Washington Nationals tightened their grip at the top of the National League East division by withstanding an Atlanta Braves fightback to eke out a 5-4 victory at Turner Field on Friday.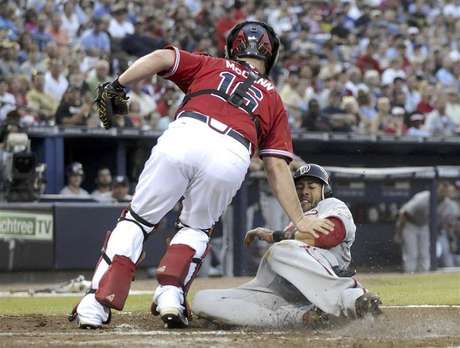 Michael Morse had a big night with the bat for the Nationals, going 4-for-4 and pumping the winning run with a solo homer in the top of the eighth inning.
The Nationals appeared to be coasting to victory on the back of pitcher Ross Detwiler, who had kept the Braves scoreless for six innings to help the visitors open a 4-0 lead but the left-hander allowed the home side to tie the game in the seventh.
Morse, however, had one more chance to shine and his homer in the eighth helped Washington improve to 44-31 while the Braves dropped to 40-36 in their quest to chase down their division rivals.
(Reporting by Ben Everill in Los Angeles; Editing by John O'Brien)
Reuters - Reuters content is the intellectual property of Thomson Reuters or its third party content providers. Any copying, republication or redistribution of Reuters content, including by framing or similar means, is expressly prohibited without the prior written consent of Thomson Reuters. All rights reserved.