Xavi Hernandez scored three minutes from time to seal Barcelona's hard-fought 2-0 home win over Granada on Saturday, keeping the Spanish leaders perfect through five rounds.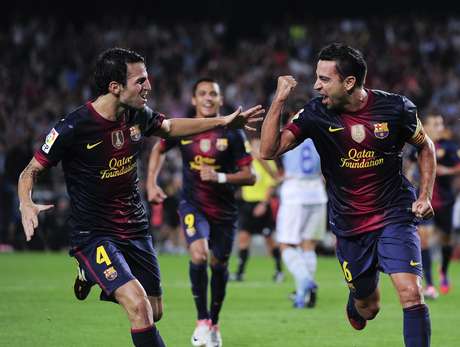 Barcelona has a provisional 11-point gap over defending champion Real Madrid, which faces a Spanish-capital derby at Rayo Vallecano on Sunday.
Goalkeeper Antonio "Tono" Rodriguez was keeping his net clean with an inspired performance until Xavi pounced on a loose ball at the top of the area and fired it off the underside of the crossbar to finally break through for the hosts.
Lionel Messi then provoked Barcelona's second goal two minutes into injury time when defender Borja Gomez redirected the Argentina forward's shot into his own goal.
Granada largely kept Barcelona out of its area, and even showed moments of attacking intent, in an evenly matched first half. And Tono's numerous acrobatic saves to deny Barcelona after halftime gave the modest side hope that it would finally take at least a point away from Camp Nou Stadium after having lost in its 18 previous visits.
But Xavi, who replaced David Villa in the 53rd after the Spain striker made his first start since breaking his leg last December, placed his right-footed strike in about the only place he could be sure Tono would not be able to reach to claim the win.
Messi, who Barcelona had needed to score a late brace on Wednesday to secure a win in its Champions League opener, went without scoring for just the second time in eight outings this season. He celebrated Xavi's winner by furiously grabbing the netting while shouting victory along with his roaring fans.
Barcelona was without center backs Carles Puyol (knee) and Gerard Pique (foot), leaving coach Tito Vilanova few options other than reconverted midfielders Javier Mascherano and Alex Song to anchor his defense.
The lack of playing time for Barcelona's makeshift backline almost cost it dearly when Mascherano and Song let Floro Flores receive and fire into the arms of goalkeeper Victor Valdes , followed by Granada's Mikel Rico shooting high after Barcelona failed to clear a loose ball in its area in the 11th.
Messi's frustration with his team's inability to score led to him having a heated exchange with Villa after another failed attack just before halftime.
Villa, who had been ineffectual, often falling offsides, was replaced by Xavi while Pedro Rodriguez went on for Thiago Alcantara .
Barcelona then settled down in defense and forced Granada on its back foot inside the last third of the pitch.
Messi had back-to-back opportunities in the 65th, first blasting Adriano's cross wide before drawing a diving stop from Tono.
Vilanova sent on another forward in Cristian Tello , and Tono soon had to make an excellent one-handed save to brush Fabregas' clean look on goal past his post in the 77th.
Tono, who joined Granada from Racing Santander this summer, made another pair of saves to deny Messi and Xavi before Barcelona's veteran playmaker finally managed to net his precision strike.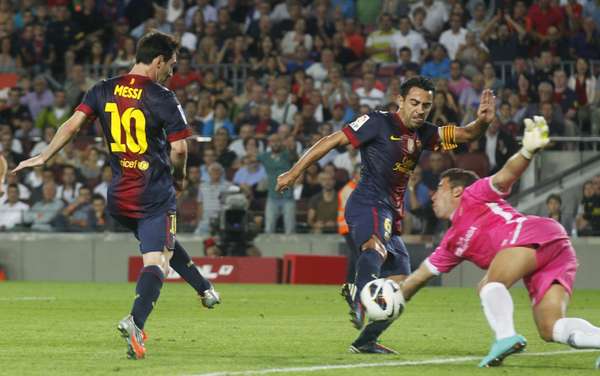 AP - The Associated Press. All rights reserved. This material may not be published, broadcast, rewritten or redistributed.